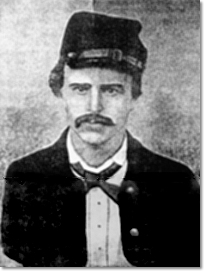 Charles Wykes c.1863
Charles Wykes was born somewhere in England in 1834, where, we don't know. Like many of his fellow countrymen, he headed across the Atlantic to try a new life in America. Again, we don't know when, but we do know that he married Margaret Jane LaBrant in Vinton, Iowa, on April 19, 1857. However, his story is perhaps a little different from many of his immigrant contemporaries. Barely four years after he married, in 1861, Abraham Lincoln took office as President of the United States. Eleven States broke away from the Union and formed the Southern Confederacy and civil war broke out. Any hopes of a swift victory for the Union were dashed at Bull Run on July 21st 1861 and there followed four long years of blood and slaughter before the Confederate General Lee surrendered to General Grant in April 1865.
Non-Americans are often surprised at the ferocity and size of the Civil War battles and the proportionally high number of dead and wounded. As with many conflicts before the discovery of modern medicines and antibiotics, more than half the deaths were the result of disease. It is still the case today, after WW2, Korea and Vietnam, that more Americans died in the Civil War than in all the conflicts in which America has since been involved put together.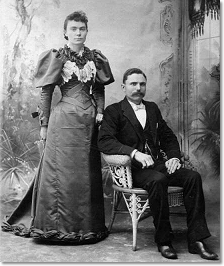 Winnie & John Henry Wykes
Plano Illinois, 1890's
This is where Charles's story takes an unusual turn, for despite the fact that he had not been in America that long, he had obviously embraced his new country as his own, for he joined the 129th Infantry, Co. B, Illinois, in Pontiac, fighting for the Union. Little is known about his experiences, but he died at the tragically young age of 30 on February 15, 1864, in Nashville, Tennessee. He is buried in the National Cemetery, Nashville. The National Archives list the cause of death as Yellow Fever in one place and as Typhoid fever in another reference. Family lore among his descendants says Charlie died on his way home from the war, but as the war was not over it is possible he was wounded or just on leave. He most certainly saw some of the worst of the action as in the Border states, like Tennessee, the fighting was particularly heavy.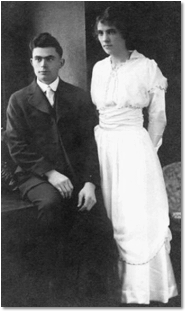 LaVerne (Jack) & Emma Wykes
Charles had three children: William Edward Wykes, b. April 20, 1858; John Henry Wykes, b. April 12, 1860 and Catherine Eldora, b. September 1, 1862. John Henry married Winnie Gifford on December 15, 1892.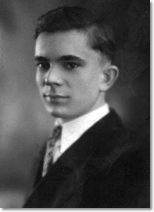 LaVerne Albert Wykes, 1937
John Henry's son, LaVerne (Jack) Gifford Wykes married Emma Larson on January 12, 1916.
Their son LaVerne Albert is the father of the two Wykes brothers who still live in Plano, Illinois.