| | |
| --- | --- |
| | is not a common name, but it is definitely an old one. That it is an English name seems certain, although some of the alternate spellings have more recent Scandinavian or Germanic origins. |
Francis C. Wykes, who has been researching Northamptonshire Wykeses and the name in general for more than twenty years, suggests that Wykes (Wycha in a Latin form) was one of the original 5 or 6 pre-Norman surnames in England. The earliest written record of the name he has found is in the Anglo Saxon Chronicle of AD 1002 which mentions one Sygmund Wycha, "freeholder and huntsman" who lived in South Northamptonshire in a longhouse probably on the site of the manor house near Wicken where Sir Richard de Wykes lived 3 centuries later.
The name can be traced back to Norman times in England with certainty. Gualterus Diaconus, the ancestor of the De Hastings family, lords of the barony of Hastings, held a knight's fee in Wikes, according to the Domesday Book.
Of interest among the many surviving records which are of use to the genealogist, Merchant Marks are a fascinating insight into the days when the ability to read was not widespread. These precursors of the trade mark, or perhaps the corporate logo, uniquely identified the merchant, at a glance. Note the way the W is worked into each design.

Merchant's Marks of Robert Weeks of Walberswick, Suffolk, 1598 and Richard de Wike, Bristol, 1328
David Wicks, who has researched the origins of his family name, suggests that there are at least four main Wykes/Wickes family lines all from Wycke/Wick place names.

| | |
| --- | --- |
| Wykes of Wykes/Wix, Essex | 1100 |
| Wykes of Rumboldswyke, Chichester, Sussex | 13th Century |
| Wyke/Wykes of Northwyke, Devon | 1100's |
| Wyke/Wykes of Week St Lawrence, Somerset | 12th Century |
Since this site was launched, other places with links to the name have come to light.

| | |
| --- | --- |
| de Wykes of Wyke-Hamon and Wyck-Dive, Northants | 14th Century |
| Wykes of Wicken, Cambridge | 14th Century |
Richard Capon, another Wykes/Weekes researcher, agrees with David's analysis, but also suggests a Viking root and in addition, has researched a family tree which shows that the Wykes name came from Robert, Earl of Mellent, Comes de Wigornia who died in 1207.
Richard suggests that during the 13th century the name Wigornia was often written in its abbreviated form of Wig' or de Wig'. With several indiscriminate variations it became Wik or Wyk and then Wyke(s) or Weekes.
Francis Wykes conducted a distribution survey of the name Wykes in the 1980's, based on the UK telephone directories. He found just over 500 entries, the largest majority of which were in the counties of Leicestershire and Northamptonshire. His further research suggests that the East Midland Wykeses originated in Leicestershire and that their original distribution was along the river valleys, suggesting a pattern of settlement inland from the North Sea. The villages of Wicken on the Wicken Fen in Cambridgeshire and Wyck-Dive and Wyke-Hamon in Northamptonshire all lie near the Great Ouse river which flows out into The Wash. This would again tend to give credence to the suggestion of a Viking connection.
It is generally accepted that (British) surnames have five main sources: place name, location of abode, occupation, nickname and patronymic. Wykes and its variants most probably belong to the first two categories.
Modern pronunciation of the name Wykes seems to be fairly consistent, rhyming with likes, hikes and pikes.

If there are any Wykeses who use a different pronunciation I would be interested to know about it.

Although the present-day name, and its variants,

WEACKES, WEACKS, WEAK, WEAKE, WEAKES, WEAKS, WECKES, WECKS, WEECKES, WEECKS, WEEK, WEEKES, WEEKS, WEYKES, WHICKS, WHIKES, WHYKES, WICK, WICKE, WICKES, WICKS, WIKE, WIKES, WIX, WIXE, WYCK, WYCKES and WYKE
in all probability have several different origins, it is likely that one source of the name originates in Saxon times - a wyke was the Saxon term for a dairying hamlet, or small village.
It seems likely that the current pronunciation of the name Wykes, with a soft vowel sound, originated, or became more prevalent, in the 18th century. Prior to this, there is evidence to suggest that it was pronounced with a strong vowel sound, as one would pronounce Wicks or Wix or perhaps Weeks. Chaucer uses the spelling wykes for the plural of week (as in 7 days) in the Canterbury Tales.
Eilert Ekwall, in his short work Old English Wic in Place-Names (1964, A-B Lundequistska Bokhandeln of Uppsala) gives the main meanings of Wic as
"Town" or Port

"Street", meaning lanes or alleys as the word is plural in this sense.

"Village", but this is never used to refer to a Britsh village, only one in the Holy Land.

An "Abode", dwelling place, quarters or home. This is the most common use, but it is rarely found in the singular - only as a plural.

There is a special meaning in charters referring to a messuage or town-house.

Night quarters or a camp.

A "berewick" or dairy farm - found only in charters. There is also Old English Wich or Wych which meant a salt-town or salt-pit eg Droitwich.
In north-east Yorkshire a wyke has a special meaning. Along the coast the high moorland often runs right up to the sea, resulting in the spectacular cliffs to be found there. A wyke is a place on the shoreline where a boat can be landed and there is a way up from the beach. Hence Sandsend Wyke north of Whitby.
Kathleen Wykes, of South Carolina, USA, drew my attention to the following extract from Eaters of the Dead by Michael Crichton (1976) about the Ibn Fadlan manuscript,which represents the earliest known eyewitness account of Viking life and society.
"For the space of two days we sailed along a flat coast among many islands that are called the land of Dans, coming finally to a region of marsh with a crisscross of narrow rivers that pour onto the sea. These rivers have no names themselves but are each one called "wyk," and the peoples of the narrow rivers are called "wykings," which means the Northmen warriors who sail their ships up the rivers and attack settlements in such fashion.*

"Now in this marshy region we stopped at a place they called Trelburg, which was a wonder to me. Here is no town, but rather a military camp, and its people are warriors, with few women or children among them. The defenses of this camp of Trelburg are constructed with great care and skill of workmanship in the Roman fashion.

"Trelburg lies at the joining point of two wyks, which then run to the sea..."
* (Crichton's footnote) "There is some dispute among modern scholars about the origin of the term 'Viking,' but most agree with Ibn Fadlan, that it derives from 'vik,' meaning a creek or narrow river."
I was told by my father that the name Wykes is a corruption of Viking and means "Wolves from the Sea". Any other suggestions are welcome.

YX Cattle Brand,
Texas
I have traced my ancestors to the villages of Great Creaton, Spratton, Cold Ashby and Hazelbeech in north-west Northamptonshire, where my great-great-great-grandfather, James, married Mary Haggaday in 1813. In 1818 Mary gave birth to Joseph. In the same small village, another James Wykes married to Hannah gave birth to another Joseph the following year. My Joseph remained in Great Creaton for most of his life. The other Joseph left for the Americas, where he became a preacher of some renown. He married Ann Foster in Ohio in 1841. Joseph's brother Edward also crossed the Atlantic. I have met some of his descendants who described the Wykes Brand, pictured on the right, still used to identify cattle in Texas to this day.
My nephew, Mike Cummins, found a list of Australian cattle brands on the Web and discovered the following:

WYKES Ellen, Loombah, Cumnock.
WYKES John, Shades, Molong. Cancelled brand


Wykes Cattle & Sheep Brand, Australia
He did some more research and obtained a copy of the the brand which was originally registered by John Wykes. John cancelled the registration and the same brand was then registered by Ellen. In July 1999 I was contacted by Graeme Wykes in Australia who has some information about the family concerned. John was the son of James and Susan Wykes who travelled to Australia on the Hydaspes as assisted immigrants in 1852. Graeme and his father kindly assisted copyright clearance of the information which appears in the Gallery section.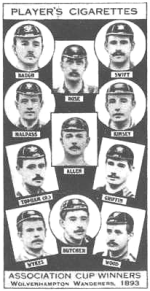 The Wolves team which
won the Association Cup
in 1893. David Wykes is
at the bottom left.
Now here's some serendipity! I was born and raised Wolverhampton, in the industrial West Midlands of England and attended primary school near the town football ground, which we walked past twice a week on the way to the park for games or the beautiful Victorian Public Baths for swimming. I'm not a soccer fan myself, but the majority of my school friends supported the Wolves, the local team.
Soon after I set up this site I was contacted by Paul Wykes, who was looking for information about his Grandfather's uncle, David Wykes who played football for Wolverhampton Wanderers (the Wolves) in the 1890's. Paul, who is not related to me as far as I know, sent me a copy of the cigarette card (an information medium that was widely used in the UK in the early part of this century) which is reproduced on the left.
David Wykes scored a respectable 69 goals in the 179 games he played for Wolves between 1888 and 1896.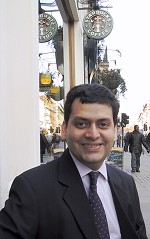 The other H. Wykes
In February 2001 I received an email from another H. Wykes. There's nothing too unusual about this nowadays with the web site attracting emails from Wykeses all over the world. This one was a little different however, as this H. Wykes is an Indian, born and bred in Bombay, but resident in London, where he currently works. His first name is Homiyar and with a surname like Wykes, he got "a lot of stick in school (actually both for my first and last name!)", so is a fully fledged Wykes, as any who bear this name will testify!
Homiyar's ancestors worked very closely with the British in building the Western India railway line and there was a Colonel (?) John Wykes involved in the construction (circa 1880s). This John Wykes was so grateful for Homiyar's great-great-grandfather's help that he presented the family with his sword (which is still there as a family heirloom in India) and the family adopted the Wykes surname.
I met up with Homiyar in London, presenting myself at reception where he works, much to the confusion and amusement of the receptionist, when I told her that I was "Mr. H. Wykes, to see Mr H. Wykes." Over a couple of coffees at Starbucks, Homiyar told me a little about himself and his family. He assured me that they are the only Wykes family in India. He estimates he has 8 - 12 relatives who bear the surname in India, plus an uncle in Australia.