The following is reproduced from The Book of Bournewood, published in 1984, by kind permission of the Centenary Book Committee, Bournewood Baptist Church, who are the copyright holders. Many thanks to Graeme Wykes of Australia for all his help in making this information available.
| | |
| --- | --- |
| | |
| James Wykes | Susan Wykes |

In 1852 the ship Hydaspes brought out to the colony of Australia James and Susan Wykes with their children, John, 11 years of age, Mary seven, Emma Jane four and George one. According to the ship's manifest, courtesy of State Archives, James had come from Lutton in Lincolnshire, his parents being James and Mary Wykes. Susan's parents lived in Wainfleet, Lincolnshire and were John and Elizabeth Wright.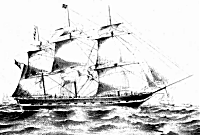 HYDASPES circa 1868
James and Susan were both 28 years of ages, coming as assisted immigrants, James having paid £4.10.0 for his fare, he was listed as a labourer, and were of Church of England religion. There were no complaints made against them on the voyage of 113 days. James was illiterate, while Susan could read, as could their son John.
After a short stay in Sydney, during which time they parted with the last of their money, in the purchase of a sheep dog, they were hired as shepherds and hut keeper on the vast Brymadura Run, 150,000 acres in the Molong District. Almost 11 years were spent on this Run and often they had no better home than sheets of bark, placed against hurdles, under which to shelter, as they shepherded the sheep from place to place.
During this time three more sons were born to them, James Jnr on June 22 1854, William on July 19, 1856 at Gumble Flat Station, between Parkes and Manildra, and George Barton on October 2, 1859. Their first son George passed away probably in 1857 according to records available from State Archives.
In 1862 James Snr and Susan began their own farming, selecting 40 acres of land at The Shades, Molong. This land had to be cleared, the family living in a tent until a home could be built. Water was carried by hand for 2 miles. By sheer hard work and indomitable will, the property was improved and added to until the farm was a valuable property of 800 acres.
During this time there was a severe drought and feed was in short supply in the Molong area. James Snr took the livestock looking for feed, he came to grass along the Chinaman's Creek on the vast Loombah Run. Here he made camp but while shepherding the stock on his horse, he fell and broke his leg. He managed to strip bark from the trees and set his leg in goodly fashion with bark splints. He lay in camp for three weeks, until his sons came looking for him with supplies. They loaded him on to a spring cart and after a grueling trip, took him back to The Shades without the attention of a doctor at any time. He again broke his leg at the age of 93.
An anecdote to this story is that some years later, George Barton went to have consultation with Dr Glasson of Wellington, telling him the story of his father's courage and fortitude. Dr Glasson found it hard to believe and when George Barton asked for the fee of the consultation, Dr Glasson said the story he had just heard was worth the fee, and didn't charge anything.
At The Shades some time later the family awoke one morning to find all the stock missing - broken out of their paddocks - and a search found them back on the Chinaman's Creek, and son John thought that maybe the stock were trying to tell them something, and so he selected 400 acres along the Chinaman's Creek at Loombah later to be known as Bournewood.
James Snr and Susan were responsible for the start of a Baptist Church at The Shades, their names being mentioned in a minute book of the Garra Area in those times. Emma Jane remembered her girlhood home being a centre of religious activity, services being conducted in the home by Anglican and Methodist preachers but it was J.A.H. Poulton who started a revival in which numbers of pioneers became Christians.
The property at The Shades was disposed of in 1895, and James and Susan came to reside in the Bournewood area, where their family had settled. Later they retired to Wellington, where Susan died on May 7, 1907 aged 84 years and James died on November 16 1918 aged 94. Both are buried in the Curra Creek Cemetery. Their descendants are now scattered to many parts but pay tribute to these true pioneers of Australia.
Mr. Oswald Wykes, great-great-grandson of James and Susan informs us the the Wykes family name can be traced back to 1049.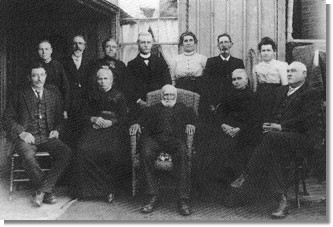 James Wykes & Family
Back row: Ellen (Wing) John's wife; Peter Trounce; Elizabeth (Matthews) James Jnr.'s wife? Later married Peter Trounce; Rev CJ Tinsley; Elizabeth (Pickford) wife of GB; Alfred Morris; Phoebe (Sherringham) Wife of William.
Front row: George Barton; Mary married Robert Tilling; James Senior; Emma married Alfred Morris; William.