Detail from the Anglo Saxon Chronicle
The Anglo Saxon Chronicle reference to Sygmund Wycha, "freeholder and huntsman" who lived in a longhouse in the area of South Northamptonshire seems to be the earliest instance of the name in written records.
The Doomsday Book has a reference to Gualterus (Walter) Diaconus who held a knight's fee in Wikes. Another reference cites one Roger de Wyke, in the same area of S. Northamptonshire as Sygmund lived.
Don Budds has just written a book about Wix Priory, Essex, England, and he has discovered many references to the surname Wix, Wykes, Wikes, etc., among the many ancient documents held at the Public Records Office. Some examples areshown in the table below.
Don adds, "The family tree of Alexander (1080-c1160) is well documented, although brief. He married Alice and had one son William fitz Alexander. There are also 18 refs. to surname Wix, Wike, Wickes in Wix church register at Wix between 1560 and 1697."

| | |
| --- | --- |
| Robert de Wikes is a witness on deed ref. HD296:1640/2 held by Suffolk Records Office. | 12th century |
| Brainello de Wix | circa 1141-1152 |
| Alexander de Waham, alias de Wix part founder of Wix Priory and probably buried at Wix. | circa 1125 |
| Pani Fanulo de Wikes | circa 1189-1198 |
| Oracio de Wikes ref.E/40/13980 | circa 1235 |
| Richard atte Wyk ref E/40/13804 | circa 1351 |
| Sawel de Wikes | circa 1198-1220 |
Thomas Wykes (1222-1293?) was a chronicler of Norman times in England, during the reign of Edward I. His chronicle is held in the Public Records Office at Kew in London as part of the Rolls Series.
The Plantagenet Encylopedia, (Elizabeth Hallam, Weidenfeld & Nicolson, 1990) has this to say of him:-
Thomas was an Augustinian Canon of Osney Abbey, Oxfordshire and was official Abbey chronicler from 1285-93. He was a man of some substance before he became a canon. His chronicle covers King Henry III's wars with his barons, and Edward I's coronation and early reign. He was a Royalist but could be critical of Henry, especially in his allowing the massacre of Jews in 1263: "It seemed an inhuman and impious deed to slay them without cause ..."
He became a canon in 1282, praised as "an historian as well as chronicler", giving an honest and fair account although a 'Royalist'. The editor of the Annales Prioratus de Wigornia , London , Longmans 1869, H.R .Luard said, "We must always look on Thomas Wykes as one of the most interesting and most trustworthy historians of his time."
There is doubt about where he was born , he may have been local to Oxford where there was a farm called Wyke and a family named after this place from an earlytime, including William atte Wyke Oxford 1273 and Henry de la Wyke, Oxford.
Thomas is also called Wigornia which is the Latin word for Worcester, so whether he was born there or had lived there before he came to Oxford is open to question. It is interesting to note that the Wykeses of North Wyke, Devon, claimed an ancestry that dates back to the Wigornia family, descendents of Roger de Bello Monte, one of William the Conqueror's Knights. David Wicks notes that there are several other early Wyke churchmen, Thomas de Wyke ,1270 "rector ecclesie de Castre Sancti Edmundi" (from Matthew Paris); John de Wyke, sub prior of Worcester 'Liber Albus' 1301 to 1317; Fra. Gilbertus de Wyke, 1217; Thomas de Wicke, Prior of Great Malvern, 1217; Roger de Wyke, Prior of Bruton, 1314; John Wyke, Parson of St. Stevens Church, Bristol, 1397; Randall de Wyke, master of the Hospital of Rye, Sussex, 1344; Robert Wykes, 1515, Dean of College of South Malling, Sussex.
It is possible that Thomas Wykes was one of three brothers, the other two being Sir Richard Wykes of Gloucestershire and John Wykes, a scholar. Their mother was Edith. It is known that Sir Richard owned land in the area of South Northamptonshire. Sir John Wykes, was the grandson of Sir Richard and was killed at the seige of Calais in 1346.
Malcolm Wykes of W. Sussex, UK, came across some references to Wykes in the Paston Letters. The following extracts have been taken from "Illustrated Letters of the Paston Family", edited by Roger Virgoe (Macmillan 1989). The Pastons of Norfolk were powerful in England in the 15th century.
In a letter from Clement Paston to John Paston on 25 August 1461, he writes:
...Also he is acquainted with nobody but Wykes (John Wykes, 'Usshere of the King's Chambre'), and Wykes had told him that he would bring him to the King, but he has not yet done so.
Describing the Royal Household of Edward IV, the editor states that
Court members included the King's Secretary, Confessor and Almoner and usually one or more lords, but men of quite low status, such as the Pastons' friend John Wykes, Usher of the Chamber, could acquire great influence through their intimacy with the King.
This John Wykes had an estate at Lavenham in Suffolk. He was in Castle Rising in Norfolk in one of the letters, a Royal castle, where the court must have been at the time.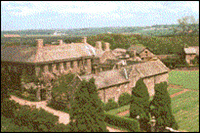 North Wyke, Devon, England
There are two (seemingly) independent family trees, researched in the 19th century that trace one branch of the Wykes family back to William the Conqueror and beyond, to Bernard the Dane, cousin of Rollo the Dane, a Saxon prince who invaded Normandy and became the first Duke of Normandy.
The first of these is based on the information in "GENEALOGY of the family of GEORGE WEEKES of DORCHESTER, MA.", by Robert D. Weeks; the main book published in 1885 and the second book, same title but PART II, published in 1892. Randy Weeks supplied this information and also says that both can be purchased from
The New England Historic Genealogical Society at 101 Newbury Street, Boston, Ma., 02116-3087 U.S.A.

Rev. William Wykes-Finch
The second genealogy is based on the research of the Reverend William Wykes-Finch published in 1903, entitled "The Ancient Family of Wyke of North Wyke". William Wykes-Finch bought back the ancient family seat which had been lost to the family in 1713.
Although these genealogies are similar, there are enough differences to suppose that they were independantly researched. The history of the Wykeses of North Wyke as told in these genealogies, although controversial in medieval history circles, are to some extent corroborated by the heraldry associated with and preserved in the house at North Wyke.
Charles Worthy's "Devonshire Wills", published in 1896, tells much the same story, but contains additional information about the related Weekes of Honeychurch and Cheverstone families.
There are several sites related to Wykeses in Gloucestershire, Wick Court being a particularly fine example.
My own ancestors originate in the English county of Northamptonshire in the east midlands. Northamptonshire, together with it's neighbouring counties of Leicestershire and Warwickshire, contain by far the largest concentration of Wykeses in the British Isles. Francis Howcutt has been researching his Wykes roots in Northamptonshire for some twenty years and has started the process of untangling the web of Wykeses who appear in the Welford parish registers in the 17th and early 18th centuries. I am personally grateful to Francis for this information which has added to my knowledge of my own family tree. I'm sure other researchers will be impressed with the detail Francis has uncovered, whether or not they are researching this particular line. One of these Wykeses was MP for Northampton between 1710 and 1722.