Many thanks to Ronda Wicks for finding and sending me this information and the photographs below.

| | |
| --- | --- |
| | |
| George H. WEEKS in 1894 | Wm. WEEKS and Matthias WEEKS in 1894 |

George, William. and Matthias Weeks were all members of the Woodstock Fire Brigade in 1894, hence the rather dashing uniforms. These details are from a photograph kindly provided by the Woodstock Museum. George and Matthias are easily identified in the 1888 and 1894 Woodstock Directories, where George H. Weeks is listed as a finisher, and Matthias Weeks as a cabinet maker.

George worked for James Hay & Co. Ltd., furniture manufacturers, and then the Thomas Pipe and Organ Co. He lived in Woodstock at 94 Wellington St. in 1888, 196 Graham Street in 1894, 180 Riddell Street in 1901, 427 Ingersoll Avenue in 1903, and 206 Graham Street in 1918 and 1928. George's wife's name was Ethel.

Matthias Weeks was a cabinet maker, and lived at 509 Edward St., Woodstock in 1888. He doesn't appear in the 1894 directory or anytime later.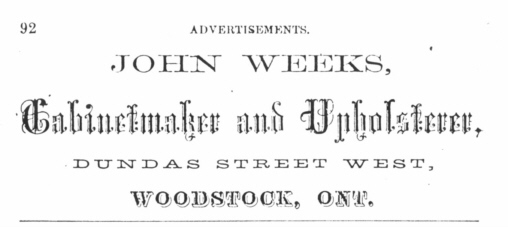 An advertisement from a Woodstock Directory