James and Mary Wykes of Creaton

James and Mary are my Great Great Great Grandparents and the Great Gandparents of Harry and Martha Wykes. James was born in Spratton, c.1784, the oldest son of John and Sarah Wykes of Spratton, Northamptonshire. Mary was also born in Spratton in 1787. Her maiden name was something of a mystery, being reported as Maggaday or Haggaday. I searched many places and found neither name reported anywhere. However, in February 2002 I was contacted by Ralph Hagatta who wrote:-
"I have been unable to locate the origins of my ancestor William Haggata who married in Great Plumstead, Norfolk in 1793 & died aged 72 in 1831 in the same parish & have been searching for him for over 25 years.

"I had found a reference to a Haggata Baker in Great Yarmouth ( Haggata as a Christian name) who in other references is shown as Heggaday Baker marrying Elizabeth Cattrell in 1809 at Gorleston and as being the son of William Baker & Elizabeth Haggady & being from Great Yarmouth.

"As Great Yarmouth is relatively close to Great Plumstead I have looked at various transcriptions of the registers of St Nicholas, Great Yarmouth which cover an assortment of years. There are various entries with a variety of spellings - Haggaday, Hagaday, Hagady, Haggardy, Haggaty, Hagaty, Heggaday, Haggata, Haggarty but most of the earlier entries going back to 1729 are spelt Haggaday. Although I cannot be certain, my gut feeling is that these entries do originate from a common ancestor.

"Unfortunately the transcripts are incomplete and I have not consulted the originals. I believe the condition of some of these, which are held by the Norfolk Record Office are very fragile.

"In searching the IGI for all references to Haggady I have noted that the only references to this name are in Great Yarmouth and at Harpole, Lamport, & Hanging Houghton (parishes very close to Spratton). Perhaps you may find some of Mary's relatives in these parishes."
Several of James and Mary's sons were in the building trade, being bricklayers/builders, so it would seem likely that James also plied that trade, However, the returns for the 1841 and 1851 Censuses show his occupation as Agricultural Labourer.
The picture of James is not a photograph of James, but a photograph of a portrait. Now if James was an agricultural Labourer, would he have had a portrait painted of himself? It could be that the photograph is only a detail of a larger group portrait. One wonders if the original has survived and where it is now. As both James and Mary were 'Chapel', perhaps the portrait was of members of the Independent Chapel in Creaton.
James died at Creaton in 1857. Mary died in 1871.

Charles and Elizabeth Wykes of Creaton
James and Mary's eldest son was Charles, a bricklayer/builder who proved to be very elusive during my researches. I found him early on, but despite strong clues I could find no actual evidence of his relationship to James and Mary Until I was contacted by Kate Burchill, who supplied these wonderful pictures. Kate is the great-great-great granddaughter of Charles and my fourth cousin, once removed. Both Charles and Elizabeth were born in Creaton, he in 1811 and she in 1813, but they were living in Guilsborough, Northamptonshire when their son William was born in 1842 and their son Edwin, in 1844. Charles died in 1886 and Elizabeth in 1887.

| | |
| --- | --- |
| | |
| William Wykes of Guilsborough | Edwin Ernest Wykes of Guilsborough |
William is currently a bit of an enigma. Apart from the bare details of his birth all I know is that he died in 1894. However I have not been able to locate him in the 1881 census.
Edwin Ernest is even more of an enigma. We are not sure if he is William's son, or the son of William's brother, Edwin.
We do know that on the night of the 1881 census, he was staying with his grandparents, Charles and Elizabeth in Aston, Warwickshire.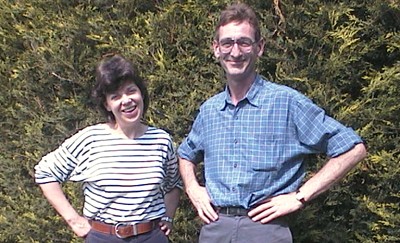 Kate Burchill and your host, great, great, great, great granddaughter and great, great, great grandson of James and Mary Wykes of Creaton