© Copyright Northamptonshire Record Office.

Northamptonshire Record Office
Accession 1956/27
catalogued as WY 1 - 573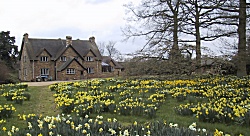 Haselbech Hall in a sea of daffodils
This collection forms part of the records and papers of Sir Thomas George Apreece who died in 1842 without issue leaving his property to St. George's Hospital, London. They are manifestly only a small section of what must have been a very large collection since Sir T.G. Apreece owned estates not only in Northamptonshire but also in the counties of Leicester, Huntingdon, Cambridge, Lincoln and Essex. The collection consists almost entirely of title deeds and other papers of the Wickes or Wykes family of Haselbeech the last of whom, William Wykes, who died in 1742, is well known in Northampton as the public benefactor who provided the first good water supply for the town.
The Wykes family seems to have come into Haselbeech probably from Cold Ashby, shortly after the turn of the 16th century. No Wykes appears in the inclosure agreement of 1599 but not long after Randolph Wykes, butcher, describing himself as of Haselbeech, made his will (8 July 1612). Both his sons William and John are described as 'butchers' at first but this later becomes in both cases 'yeoman' and in the case of the younger son eventually 'gentleman'; John's son Randolph (d. 1688) and his sons Randolph (d. 1706) and William (d.1742) called themselves 'esquires'. The eldest son of the butcher, William, died about 1668 leaving at least two sons William, of whom little is known, and Francis whose fortunes appear to have gradually declined. Francis's son John became a shoemaker at Rothwell but apparently still had a small cottage in Haselbeech as late as 1721.
The records now described are the title deeds and papers of Randolph Wykes' younger son John and his descendants. They show how the estate was gradually built up from small beginnings. Not all the bundles of title deeds to the 37 purchases made between 1638 and 1742 have survived, but those which remain form the largest part of this collection. In one case there are medieval charters back to 1300 but many bundles are quite small and cover only a short period. Nevertheless with the help of the Inclosure agreement of 1599 the descent of much off Haselbeech property can be traced from that date It is curious that there seems to be no means of discovering from this collection when the Wykes' acquired the manor of Haselbeech. (Section 1, title deeds, WY 1-410).
The second section contains the settlements of the Wykes' estate from 1669 to 1759 including a number of wills and inventories of the family. The settlement of William Wykes (1716) relate to his own lands not only in Haselbeech but also in Loddington, Cold Ashby, Elkington, and Welford, and his wife's lands in Stoke Talmage (Oxon.) and in villages near Reading (Berks. and Oxon.) (Section 2, WY 411-448). There are also a quantity of mortgages of parts of the estate made by William Wykes. (Section 3, WY 449-466).
Thirdly there are a number of miscellaneous financial papers including a conveyance by John Hanbury of Kelmarsh of his estate there to trustees on behalf of his creditors (1678) of whom Mrs. Susannah Wykes was one, and also four years accounts of one of the trustees of Randolph Wykes, a minor (1697-1701). (Section 4, WY 467-489). Other papers relating to Haselbeech are a copy of the inclosure articles of agreement (1596), a tax assessment giving the names of 16 proprietors (1661), and agreement for stinting the lanes(1666) an inquisition ad quod damnum about altering the route of the road from Cottesbrooke (1711) and a lease of Haselbeech manor house in 1769. (Section 5, WY 490-497; and Section 11, WY 544-55O).
As noted above the purchase deed of Haselbeech manor is missing but there are copies of conveyance of the manor from 1573 to 1603 and 3 court rolls (1709-12). (Section 7, WY 509-310. and 9, WY 517-520). Quit rents were due from lands in Haselbeech to the Honor of Berkhamstead of which there is a rental (1601) and a number of receipts (1639-1733). (Section 8, WY 511-516). Other quit rents were payable to the Crown for the advowson for which there are some receipts (1657-l7l6), (Section 10, WY 521-533). There is also a lease of tithes due from Wykes' property (1667), the deed of exchange for a new rectory (1710) and several other papers relating to the church. (Section 10, 534-543). The Wykes also owned estates in Cold Ashhy and Elkington of which there are abstracts of the deeds of purchase and a few other papers (Section 6, WY 498-508).
Finally there are a few miscellaneous items such as a chancery decreee relating to church land in Thorpe Malsor (1683), the marriage settlement of Shukbrugh Ashby and Elizabeth Hinde who was heiress of lands in Northants., Leics., Bucks., Warwicks., and Gloucs. (1745), and the sheriff of Leicestershire's quietus for the year 1764-65. (Section 12, WY 551-555).
A small section comprises mortgages of Lord Lovelace's land in Hurly, Berks. 1654-1720 (WY 556-570) and there are rentals and surveys of the Apreece estates from 1826 to 1839; with these - a stray - is a detailed survey of the manor of Cranham, Essex, c.1650 (Wy 571 & 572).
The founder of the younger and successful branch of the Wykes family, John Wykes, married twice. His first wife was a minor heiress Bridget, only daughter of Edward Walpole of Haselbeech, yeoman, who died in 1620. Wykes must have married her in 1630 when he was about 25 and she 16. It looks as if Bridget did not long survive the birth of her only daughter Mary who inherited her property and was married in 1648 to Roger Astell of Thornby, yeoman. It was from him (and his wife) that his father-in-law John Wykes bought back his first wife's farm in 1653 for £700. Meanwhile he had been in occupation of another farm at least from 1629; this was bought by his uncle Francis Wickes of Welford, yeoman, in 1631 and sold to him in 1638 for £608. By 1652 John Wykes was wealthy enough to buy the largest share of Lord Stanhope's Haselbeech estate consisting of a farmhouse, cottage and 3½ yardlands estimated to contain 130 acres for which he paid £1672. In 1657 he sold the farmhouse for £70 to his elder brother William who had himself bougrht about 48 acres at the Stanhope sale in 1652.
John Wykes had married his second wife Susannah in about 1642. Amongst the Wykes records is a conveyance dated 1678 by John Hanbury of Kelmarsh of part of his estate in that parish to trustees on behalf of his creditors one of whom was Mrs Susannah Wykes; she was owed £300 and was one among many who in all had advanced £8890 to Hanbury. In 1684 her son Randolph took over his mother's debt. John Wykes the father continued to invest in land the money he probably made out of sheep farming - a cottage bought of Thomas Saddington in 1667 had been turned into a 'woolhouse' by 1669. In 1657 he bought another large property from Thomas Merry of Gopsall for £1573 consisting of the advowson of the church, 5 cottages, several closes amounting to 67 acres and some small chief rents. Other purchases in Haselbeech made before his death in January 1670 when his estate extended to about 250 acres consisted of 2 small closes and five cottages bought at various times for £90.6.8. Four of the five cottages bought off Thomas Merry were resold shortly after in August 1657 subject however to these restrictions: they were not to be divided nor any other cottage erected on their ground, nor were the owners to take any inmates (lodgers) without permission from Wykes or his descendants.
John Wykes' eldest son, also called John, predeceased him in August l669, his younger brother Randolph succeeded not only to his brother s share under their father's will but apparently also marrying Sarah Clarke who had been John's intended wife and on whom a settlement had been made prior to her expected marriage to John Wykes the younger in March 1669. John Wykes the elder also owned lands in Cold Ashby and Elkngton. In 1650 he had agreed to buy a farmhouse, cottage and 57 acres in Cold Ashby from William Saunders of Brixworth for £1050 and ten years later bought Cold Ashby manor and 2 closes in Elkington for £1650. Next year (1661) he bought 64 more acres for £780, thus laying out over £8000 in land before this death in 1670. The inventory taken shortly after his death amounted to £3992.18.0. Amongst the items mentioned in it are 565 ewes, 459 lambs, 295 wethers, 63 rams, 814 cows, 43 bullocks & 5 bulls. He also had £1100 in cash in the house and debts due to him of £799.
Randolph Wykes, who succeeded his father in 1670, only made one large purchase in Haselbeech which was in 1682 when he bought a farmhouse and 43 acres from the executors of Isabel Goodman for £870. His other purchases consisted only of 2 cottages and another farmhouse cottage and 18 acres of which he resold the house and cottage in 1679. He extended the Cold Ashby estate however in 1670 by buying a farm and 137 acres for £690 and a further .... acres for £250 in 1672. By his marriage probably at the end of 1671 he acquired 133 acres of land in Loddington, his wife Sarah being the only daughter and heiress of William Clarke of that place. He died young in 1688 leaving three small children and another daughter Dorcas born posthumously. His inventory came to the very large sum of £5048.l.l of which a great part consisted of money lent out on bond or mortgage but he also owned l42 oxen valued at £711.10.0, 92 cows, 2 bulls & 820 sheep. On his death trustees managed his estate until his eldest surviving son Randolph came of age. This Randolph the younger also died young in 1706 when all his property devolved on hIs brother William Wykes, the last of the name.
During the minority the trustees spent some of the accumulated capital on further purchases, buying Henback Close (10 acres) for £252.3.0 in 1691 from the mortgagees of Francis 'Wickes', Randolph Wykes the elder's first cousin. Francis had been left this close in 1639 by his great uncle the Francis Wickes of Welford already mentioned. The trustees also bought Weston's Farm consisting of a house and 43 acres in 1693 for £702.13.0 from the mortgagees of Emanuel Some. These two purchases were eventually conveyed to William Wykes in 1703. Two other purchases had already been turned over to Randolph Wykes in 1703. There were a house and garden bought in 1692 for £18.12.0 from John Wright and Chadwell close (40 acres) bought for £561.16.6 in 1693 from Thomas Goodman. Randolph Wykes himself acquired a cottage in 1702 and made the first purchase from Daniel Somes shortly before his death in 1706 at the age of 26. His inventory amounted to £3265.14.4. As he made no will his brother William had to take out an administration 'de bonis non' of their father's goods the next year (1707) when there was also a grand accounting with the executors of one of his brother's trustees & security given for the £1000 left to Dorcas Wykes in the will of her father who had died before her birth.
With William Wykes we reach the last of the family. His interest in Northampton has already been referred to. He was an MP for the town in 1710, '13 & 1715, and was clearly the most important and influential member of the family. In 1711 he was able to stop up the highway that formerly ran east of the Church and the previous year he had provided the parson with a new house in exchange for the old rectory, thus consolidating the estate. He was also calling hImself Lord of the manor of Haselbeech and held manor courts in 1709 and 1712 but it has not been discovered how he became possessed of these rights. Wykes presented to the rectory in November 1707 the first of his family to do so though his grandfather had bought the advowson from Thomas Merry in 1657. All this time the Revd. Samuel Bagley, who had leased his tithes out of the Wykes estate for the term of his life in 1667, was rector. A crown lease of the advowson in 1677 to Samuel Finnes and Finnes' grant of the next presentation to Bagley's son George, vicar of Naseby, never seem to have taken effect. A quitrent of £1 from the rectory was paid to the crown throughout the period, as was another from a number of properties in Haselbeech to the holders of the Honor of Berkhampstead.
By his marriage with Grace a daughter and coheir of Sir William Kenrick William, Wykes acquired a considerable interest in estates near Reading, but unlike his predecessors seems to have found it necessary to raise money on mortgage partly to pay for new purchases in Haselbeech and partly perhaps to finance the Northampton waterworks.
In his will proved in 1742 William Wykes left most of his property to his wife for life and then to his sister Dorcas if living or else to Ambrose Saunders the son of his sister Sarah. A portrait was left to Northampton Corporation. Ambrose Saunders of Sibbertoft duly succeeded, dying without issue in 1765, when the estate passed to his cousin Shukbrugh (sic) Ashby of Quenby. In 1769 he leased the Hall and grounds to his cousin George Ashby who lived at Haselbeech until his death in 1802.