Some years ago, I received some copies of documents from a Wykes researcher who has been active for many years. One of the documents was a photocopy of a typewritten list of extracts from the Welford Parish Registers, dated 31 October1983, which contained entries for several of my ancestors, by Francis Howcutt. The value of this web site was proven yet again when in early 2001 Francis emailed me and subsequently supplied the following article, which is reproduced with his kind permission.

Wickes At Welford - The People Beneath The Tombstones
By Francis Howcutt
This article is about the life and family of my seven times great grandfather, John Wickes (c1662-1712), who was an innkeeper at Welford, Northamptonshire.

Welford is situated about halfway between Northampton and Leicester. Before the advent of railways, the village was an important stopping place, where horses could be changed and travellers refreshed and housed at the various inns.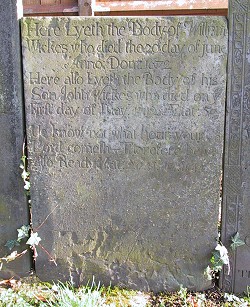 William Wickes's Headstone
Among the tombstones surviving in Welford churchyard is one with this inscription:
"Here lyeth the body of William / Wickes, who died the 20th day of June / Anno. Dom. 1672 / Here also lyeth the body of his / son John Wickes who died on ye / first day of May 1712. Aetat. 50 / Ye know not what hour your / Lord cometh - Therefore be ye / also ready Mat. 24 v.42 & 44."
Roger and Elizabeth Wikes
It is probable that William and John were descended from Roger Wikes and Elizabeth Langham who had married at Cold Ashby on 6 October 1572 and presented a total of 13 children for baptism at Welford between 1573 and 1596. Of these, only six sons and one daughter survived infancy.
Roger Wykes signed the Welford parish register as churchwarden in 1605 and was presumably "Roger Wicks senior" who was buried at Cold Ashby on 11 June 1617. "Elizabeth Wickes, widdowe" was buried at Welford on 23 January 1626/7.
Their first child, Francis (1573-1638) was a yeoman and served as churchwarden at Welford in 1610 and 1612. His will, made on 23 June 1638 and proved at the Prerogative Court of Canterbury, includes numerous beneficiaries. Neither Francis' will nor that of his widow Grace mentions any offspring of their own, so it is not likely that the people commemorated on the tombstone were their descendants.
Roger and Elizabeth's other surviving children form a roll call of possible parents or grandparents for the William Wickes who died in 1672: -
Randolph (1575-1613) established a wealthy family at Haselbech.
Thomas (1579- ) was probably the Thomas Wykes of Thornby who married Clement Coles at Cold Ashby in 1605/6. He was living at Cottesbrooke in 1638, when Francis allowed him up to £40 to pay off his debts. A further £200 was left to Thomas' children but they are not individually named in Francis' will. The Thornby parish register only survives from 1649, so it is not possible to check whether Thomas had a son called William christened there.
Richard (1582- ) Francis left £40 to be paid to Richard's daughter Susan on her marriage if approved by the executor, and £100 to Richard himself. Francis left to his godson "Francis son of Richard Wikes of Creaton" the house where he dwelt at Creaton plus £30. This suggests that Richard also may have been living in the same village. The Creaton parish register only survives from 1688, so it is not possible to check whether Thomas also had a son called William christened there.
Jane (1589-1658) married Richard Dunckley in 1610 and was living at Cold Ashby when Francis bequeathed £200 "for the better maintenance of her and her children". There is no evidence in the Welford or Cold Ashby registers that Jane had any children before her marriage.
Roger (1584-1640) married Joan Humfrey in 1609. Francis' will confirms that Roger was living at Cold Ashby in 1638 and allocated him £300. Roger's children who were christened there included a William (5 March 1611/12); it appears that he was the William Wickes junior, married to Elizabeth, whose children were christened in the same parish from 1644/5 onwards.
William (1590-1669/70) married Audrey Ward in 1621. Francis' will confirms that William lived at Cold Ashby and appointed him executor and residual legatee. William and Audry's children christened there included a son named William (16 May 1630) for whom there is no suitable burial or marriage in the Cold Ashby parish register.
The most plausible christening so far found for the William who was buried in 1672 is the son of William and Audry Wickes of Cold Ashby. However, it is quite possible that there were other Williams in the vicinity of a suitable age whose parentage has not yet been identified.
William and Mary Wickes
William and Mary Wickes had at least five children: -
John (c1662-1712)
Randolph (1664-1665)
Thomas (1666/7- )
William (1668-1668)
Mary (c1671- )

Baptisms for the oldest and youngest of these have not been found in the Welford parish register, but the account dated 1 August 1674 of the administration of William's estate identifies his surviving children as John (12 years), Thomas (7 years) and Mary (3 years). The parents of these children may well have been William Wickes and Mary Pole who married at Weston Favell on 21 September 1661 but the evidence for such a link is circumstantial. It is highly likely that Mary Pole's husband was a close relative of Francis Wickes, described as a "gentleman", who fathered six children baptised at Weston Favell between 1651 and 1663 and who had seven hearths there in 1662. There was also presumably a family connection between William Wickes of Welford and John Wickes, whose daughter Elizabeth was christened there in 1666/71.
A further indication that William Wickes had not arrived at Welford until about 1663 is that no-one of his surname was liable to pay hearth tax there in that parish at Michaelmas 16622.
William was buried at Welford two days after his death. His funeral expenses came to £5. William's death does not seem to have been sudden, as £1 was expended "for physick during the sickness of the deceased". His widow Mary obtained administration of his estate almost a year later on 7 June 1673. The inventory was drawn up by Francis Cooke, yeoman, and John Woodford, butcher. The total value of the goods listed was £105.19s.4d.
William's business ventures had included the issuing of tokens - a practice made necessary by a shortage of official coinage at that time. The inscription on a surviving example reads "Will: Wickes His Halpeny In Welford In Northamptonsheir 69"3.
"Widdow Wikes" was liable to pay tax for five hearths at Welford in 1674 (4) and employed at least one servant.5 Mary Wikes witnessed the will of William Frost of Welford on 28 February 1687. She was described as a "widow of Welford" when she was sworn as to the accuracy of the will on 13 June 1696. Both documents include her signature, with more shaky handwriting on the latter occasion. Mary was buried at Welford on 8 May 1698.
John and Elizabeth Wickes
On 5 August 1693, John Wikes of Welford married Elizabeth Wood of Chapel Brampton at St Sepulchre's, Northampton. The bond for the marriage licence, which had been granted on the same day, describes John as a bachelor and husbandman and his bride as a spinster. It has been established that Elizabeth's father was Thomas Wood of Swinford, Leicestershire6.
John and Elizabeth had these children: -
Mary (1695/6-1790) married Anthony Green at Brixworth in 1725
Elizabeth (1698- )
John (c1700-1755) married Sarah
Thomas (1703- )
Catherine (1705/6- )
Anne (1708- )
William ( - ) mentioned in his mother's will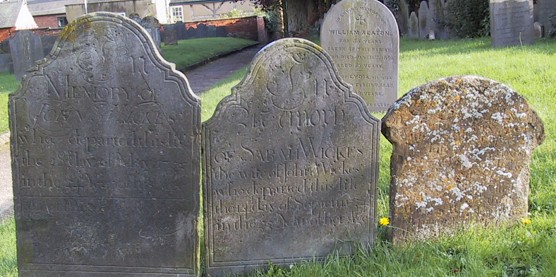 Headstones of, left to right, John Wickes (d. 1755) and Elizabeth Burrows (d.1788),
Sarah Wickes (d. 1754) and Mary Wickes (d.1698) in Welford churchyard.
John Wykes was buried on 3 May 1712. His widow Elizabeth was buried at Welford on 13 February 1724/5. Her tombstone states that she had died on 5 February in the 52nd year of her age. She left £60 each to her daughters Mary and Catherine Wicks, £80 to her daughter Ann Wicks, £30 to her daughter Elizabeth Norton, one shilling to her son William and the residue to her son John whom she appointed executor. He was apparently the John Wickes who died on 26 May 1755 in the 54th year of his age and whose will describes him as an innholder. Neither his baptism nor that of his brother William has been found at Welford.
On 14 May 1712, Richard Ward and William Ragg compiled an inventory of John Wickes' goods and chattels. The task must have taken some time, as there are 43 individually priced entries with a total valuation of £390.
Specific rooms mentioned are the brewhouse, brewhouse chamber, dairy house, upper parlour, nether parlour, cellar, kitchen, parlour chamber, middle chamber, little chamber, kitchen chamber, gatehouse chamber, garrets, stable, ostry and coalhouse. As well as furniture, wagons and other equipment which could be expected at an inn, there is evidence that John also farmed extensively. He owned 127 sheep, ten cows and three pigs, and also crops which were valued at over £64. Debts due to him amounted to £25.
The George Inn, whose name is indicated by the design of the 1669 token, no longer survives on the same site. Its location is indicated by a deed relating to the marriage settlement of John Woodford the younger in 1696. This suggests that the George stood close to the site of Salford House on the Port Way (i.e. the main road from Northampton to Leicester at Welford)7.
Before departing from John Wickes' establishment, the visiting horses made their own personal contributions to his wealth; by the end of John's life dung had accumulated in the yard to the value of £9.
Revised 30 June 2001

References
| | |
| --- | --- |
| 1 | John Wickes was buried at Welford on 9 September 1667. Administration of his estate was granted to his widow Ann, who was by then living at Clay Coton, on 4 September 1669, the inventory having a total value of £25.10s.0d. |
| 2 | Public Record Office (PRO): E179/254/11. |
| 3 | "Traders' Tokens in the Seventeenth Century" ed. by George C Williamson, Vol.II, page 900 (London 1967 - reprint of 1st edition 1889-1891). |
| 4 | PRO: E179/254/14. |
| 5 | "Francis Sutton, servant to Mrs Wicks" was buried at Welford on 7 April 1688. |
| 6 | see Northamptonshire Record Office document YZ 2685; Administration for estate of Thomas Wood of Swinford granted 3 August 1691; & Swinford parish register. |
| 7 | "Welford - portrait of a Northamptonshire Village", published by the Welford Village Appraisal Steering Group (2000). |