The small village of Great Creaton lies about 6 miles north-west of Northampton, straddling the old A50 Northampton to Leicester road (now the A5199). It is a typical English village, complete with village green, two churches and of course a pub.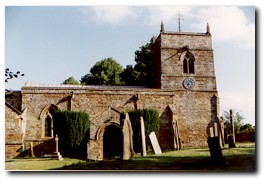 The Church of St Michael & All
St. Michael's Church, or to give it its full name, the Church of St. Michael and All Angels, is a small church located within the village, on the side of a hill, from which there are good views to the north to the grounds of the magnificent Queen Anne house of Cottesbrooke Hall and its renowned gardens, and to the east to the imposing 7th Century Saxon church of All Saints at Brixworth. St Michael's most noteworthy feature is the broad, squat clock tower, which dates from the 12th and 13th centuries, which houses a peel of six bells. It may have served as a watchtower and a place of refuge for the villagers in times of civil strife.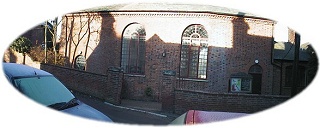 Creaton United Reformed Church
There has been a non-conformist chapel on the site of the present United Reformed Church since 1694, although the present building dates from 1793 and has been renovated and refurbished several times since then.
I have traced my family back to this village, which is also where James William Wykes, common ancestor of the Texas and Ohio Wykeses, was born. Two of his sons travelled to the New World. Joseph, who became a preacher of some note, was the common ancestor of the Ohio Wykeses and Edward Samuel the common ancestor of the Texas Wykeses
For more views of the village and additional information see the Creaton Village website.
| | |
| --- | --- |
| | |
| Headstone of William Wykes (1756-1833) and his wife Jane (1761-1835) who were the grandparents of Joseph and Edward Samuel who emigrated to America. | The Manor House, Creaton |

Contemporary references in directories to Creaton give an insight into the life and times of the village and provide useful information for the historian and genealogist.


Kelly's Northamptonshire 1848

Great Greaton:
A parish of the Hundred of Guildsborough, 7.5 miles NNW from Northampton. It contained in 1841 505 inhabitants. Colonel Pack is the Lord of the Manor. The living is a rectory in the deaconry of Northampton and diocese of Peterborough rated in the Kings book at £11.1s.8d. Its present value is £210; The Rev John McConnick M.A. is the incumbent. The church is dedicated to St. Michael. In 1825, 6 cottages were built on a piece of land in the village by Rev Thomas Jone, late curate of the parish, for the accommodation of aged widows.

Gentry:
Mconnick, Rev John M.A. [Rector]
Martin Rev. David

Traders:
Bailey, John, 'Horse Shoe', Blacksmith
Barker, Thomas, Farmer
Cole, John, Master of National School
Cornish, William, beer retailer

Dunkley, John, Farmer
Gossage, Thomas, Farmer
Gulliver, Edward, Farmer
Orland, Edward, Farmer
Orland, John, Farmer
Rogers, Mrs, Farmer
Sanderson, Mrs, Farmer
Sumpter, Francis, Retailer
Wykes, William, Farmer
Directory of Northamptonshire 1849

Creaton Great Parish (Creaton Magna) - 790 acres
Pop. 1801 = 341; 1831 = 543; 1841 = 505.

Colonel Pack is the Lord of the Manor; The Lord of the Manor and the Rector are the principle owners (Rateable value £1644).

In the Doomsday survey it was held by Gunfrid de Cioches - also recorded as Craptone, Creptone and Cretone.

There is an independent Chapel in the village and Male and Female schools were created in 1845 at a cost of about £400.

Andrew, John, Tailer
Ashby, John, Carpenter
Bailey, John, vict. "Horse Shoe"
Bailey, Thos, Blacksmith
Bushwell, Edward, Baker
Cheney, John, Builder
Cornish, John, Builder
Cornish, Samuel, Builder,
Cornish, Thomas, Stone Mason
Cornish, Wm, beer retailer
Cornish, William, Stone Mason
Crisp, Samuel, Parish Clerk
Faulkener, Robert, Shoemaker
Gulliver, Mr Joseph
Herbage, Mrs Hannah
Letts, Thomas, Grocer
King, Wingate, Butcher
Mandeno, Rev James Francis (Independant)
Manton Mrs Anne
McConnick, Rev John, Rector
Moore Enoch, Builder

Morgan, Benj, Shoe Maker
Orland, Wm, Grocer, Baker and General Dealer
Palmer William, Draper and c
Poevers, Wm, Shoemaker
Ringrose, John, Carpenter
Ringrose Samuel, Carpenter
Roach, Mary, shopkeeper
Rose John, green grocer
Ryder, John, Schoolmaster
Sharman, Isaac
Soden, Francis, Builder
Thompson, Joseph, Tailer
Wykes, William, Coal Dealer

Farmers and Grazers
Barker, Thomas (and maltster)
Dunkley, William
Orland Edward (andMaltster)
Orland John, Yeoman and Corn Miller
Rogers, Thomas
Sanders, Mary
Directory of Northamptonshire 1874

Great Creaton
The independent chapel has a Sunday school attached; the former was built about 1792. There is a residence for the minister near the chapel.

Farmers and Grazers
Dinkley, Samuel
Gossage, Thomas
Orland, John (Yeoman)
Pickering, William